Tarwin District Auto Festival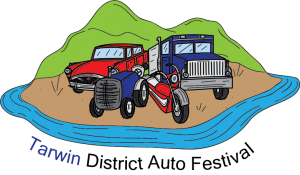 VENUS BAY, TARWIN LOWER DISTRICT MEN'S SHED INC. PRESENTS THE INAUGURAL
SUNDAY 3rd NOVEMBER, 2019, 9.30am – 3.30pm.
TARWIN LOWER RECREATIONAL RESERVE WALKERVILLE RD, TARWIN LOWER.
Cars, Motorcycles, Tractors, Trucks, Children's Activities, Food, Market, CFA, CERT, SES Displays. A Family Fun Day.
ENTRY: $5.00 per exhibitor, includes one passenger. Patrons: $5.00 per adult, under 15yrs free.
Please support our local sponsors;-
BALD HILLS WIND FARM      *  THE CAVITY VENUS BAY       * PBE REAL ESTATE
MAK MOWING        * IGA TARWIN LOWER               * VENUS BAY PHARMACY
TARWIN FUEL SHOP     * TOWNSEND'S PLANT FARM   * VENUS BAY GENERAL STORE
TARWIN POST OFFICE    * BAY GOURMET CAFÉ              * SPACE GLASS JEWELLERY
BLACKBEAR FABRICATIONS * SOUTH GIPPSLAND SHIRE COUNCIL
RIVERVIEW HOTEL * KOBUSHI DOJOS VENUS BAY * BERWICK PAKENHAM FORD
For further details ;-  Mike Gardner 0416 125 607  Email: stude1@nulllive.com  Graham Kennedy 0431 442 682.
'T' MODEL FORD coming to TARWIN from DENILIQUIN.